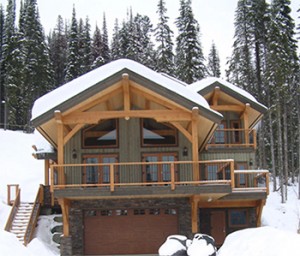 Your new EuroLine windows and doors have been custom made for your unique style, you know they will provide you with the utmost thermal comfort, and they look great. Since our window and door systems are made from high quality uPVC material, they require minimal maintenance that – if done on a regular basis – will ensure that your products will operate at their peak performance. We recommend that you examine your windows and doors at every season change or at least once every year.
Now is a great time to "winterize" your home — before the big snow hits (or rain, if you live in a place like Raincouver)! The tips below will help you care for your EuroLine windows and doors so you can enjoy trouble-free operation and unsurpassed thermal comfort through the cold months ahead.
Safety First.
Always consider your safety when performing any maintenance around your house. Use the proper equipment when cleaning or servicing windows — especially those that are above ground level. Take special precautions when using commercial cleaning products — read and follow all manufacturers' safety instructions and warnings. Always wear protective eyewear and use products in well-ventilated areas. Clean up spills immediately and follow recommended disposal instructions to prevent injury or harm.
Start with the Glass.
Use an approved glass cleaning product to clean your window panes. Make sure the products you use are not acidic or abrasive, as these types of cleaners could damage the surface of the glass, the frame and/or hardware of your windows. Avoid washing the glass in direct sunlight and never use a power washer.
Check glass panes for cracks or scratches. If you notice moisture or fogging between glass panes of an insulated glass unit, this may be an indication of seal failure.
Take a Good Look.
Inspect your windows and doors for dirt build up or scratches on the frames. Clean clay, beige or white uPVC frames with a mild, household cleaner and a soft, damp cloth. Do not apply the cleaner directly to the frame. Always use a soft, damp cloth to avoid static that will attract dust and dirt. If your frames have a laminated colour or EuroWood™ foil,use a standard, non-abrasive cleaner to wipe any soiled areas. If the laminated foil is scratched, you may be able to repair it with a paint pen. You may be able to buff out small scratches from the uPVC profiles, but be careful not to overdo it, as the profiles will lose their sheen if cleaned too aggressively.
Make sure that drainage holes are not blocked and that all channel grooves at the base of the frames are free of dirt and debris. Examine the exterior caulking around the outer edges of the window frame, look for cracked or loose caulking and/or fissures. Replace with new caulking and seal gaps as necessary.
Remember to Check the Mechanics, too!
Carefully examine all hardware — locks, opening mechanisms, etc. — does everything operate smoothly? Look for any damage to the hinges and make sure any exposed hardware screws are tightened securely. Take care to clean any sand, dirt or dust that may have accumulated from door and window hinges, sills and tracks. Use clean water to remove grit and grime. Never use an acidic or caustic cleaner as this may damage the special protective coatings or lubricants that are present.
Re-lubricate the hardware once it is clean and thoroughly dried. We recommend that you lubricate your window and door hardware with a light, petroleum-based oil at least once a year to maintain optimum operation. If you live in a coastal region, you must rinse and lubricate your hardware every three months or more often as conditions dictate. If you are located in a beach area, check your hardware for sand and grit more frequently.
Remember to inspect the gaskets for damage. Damaged gaskets will impair your window and door performance. If you have air or water leaks, examine the gaskets carefully and replace if required.
You can find complete details on cleaning and lubricating window and door hardware as well as general care instructions in your maintenance manual. Or visit the resources section of our website for more information or to download manuals.
A Few Words about Condensation:
Today's modern building practices and better products have given us tighter sealed and warmer homes than ever before.
Condensation on glass is a common occurrence and can appear on either the interior or exterior window panes. This moisture formation, while annoying, does not usually mean that there is something wrong with your windows. High performance windows and doors are doing their job: preventing the cold outside air from coming into your house, and stopping the heated indoor air from escaping outside, keeping you toasty warm and lowering your energy costs. But this reduction in natural air exchange, along with the water vapour from activities such as breathing, cooking and showering, means that your home will have a high relative indoor humidity level which can result in condensation on the inside of your windows.
"According to Natural Resources Canada, a family of four will generate approximately 50 L (17 gallons) of water a week just through normal household activities."
Wow — that's a lot of extra moisture!
The easiest way to control indoor condensation is to lower the relative humidity inside your house. There are several things that you can do to accomplish this, including running your kitchen fan while cooking, and bathroom fans when bathing or showering. Also, opening a window to air out the house on a daily basis and keeping your blinds and drapes open as much as possible will help to lower indoor humidity. In some cases a dehumidifier may be needed to bring humidity levels down.
The chart below, from Natural Resources Canada, Keep the Heat in – Chapter 9: Operating Your House, shows the maximum levels of indoor relative humidity at 20ºC (68ºF) at which there will be no condensation on conventional double-glazed or energy-efficient windows at various outside temperatures.
For more tips on dealing with condensation, please check out our Condensation FAQ on our Resources page.
For additional information on condensation, check out these links:
Moisture Problems – Natural Resources Canada
Exterior and Interior Condensation on Windows – Fenestration Association of BC
Avoiding Condensation Problems – Homeowners Protection Office – Branch of BC Housing
Questions About Windows & Condensation? – National Fenestration Rating Council
Reduce Condensation, Increase Health and Comfort – BC Hydro
PLEASE NOTE:
If you have excess water on or around your window sills or notice ice forming on the inside, call your installer, builder or dealer as this may indicate that your windows or doors have been installed incorrectly.
If you find condensation between the panes in an insulated glass unit, the airtight seal may have failed and require replacement.
One Last Tip.
EuroLine window and door products are shipped with a protective plastic film that reduces damage from handling and installation. This protective film MUST be removed upon completion of installation. Failure to remove the protective plastic film upon completion of installation may cause film to bond to the frame and permanently damage the frame finish.
Film bonded to your windows? Read this document for helpful information.
For information about our products, click on the following links:
EuroLine Windows Resources: Instruction and maintenance manuals, brochures, videos, FAQ, and more.
EuroLine Windows Products: Information and photos of all our products and accessory options.
EuroLine Windows Project Gallery: Photo slide shows of residential and commercial projects featuring our window and door products.
Sign up for our eNewsletter for the latest tips, products, news and events