On June 29th 2015, REACH Community Development, along with their team, WALSH Construction, Ankrom Moisan Associated Architects, William Wilson Architects, Housing Development Center, and Green Hammer, officially celebrated the Grand Opening of Orchards at Orenco.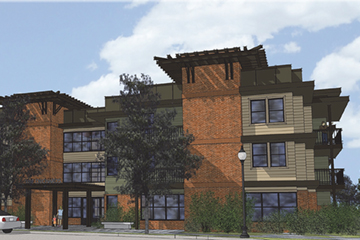 The team had plenty to celebrate — not only does the multi-family project offer low-income families and individuals affordable living units, but the development is built to Passive House standards, so the tenants' utility costs will be dramatically reduced, and the building is located in a transit-oriented neighborhood, which will lessen dependency on automobile use.
On June 17th, the 57-unit development was awarded the Portland Journal's Better Bricks, Most Sustainable Project of the Year award for 2015. This award came on the heels of Orchards at Orenco receiving Passive House certification from the Passive House Institute US, making it the largest passive house certified, multi-family building in North America.
Some of the measures used in building the Orchards, that enabled it to attain the strict Passive House standards, include: extra insulation in the roof (approximately four times the amount required by code); a heat recovery system that uses the heat from the stale outgoing air to warm the fresh incoming air, thereby reducing the energy needed for heating; larger wall stud cavities allowing for increased insulation in the walls; and a four inch foam barrier under the ground floor slab.
Since windows and doors are a major source of heat loss, the choice of IGUs (insulated glass units) within a high-performance frame system is integral to attaining Passive House standards. We are excited that our 4700-series ThermoPlus tilt and turn windows with triple-glazing, two coatings of LoE-180 and argon fill were used throughout the Orchards at Orenco project.
All of us at EuroLine congratulate REACH Community Development and its entire team for their outstanding achievement in realizing their goal of building a quality, affordable, and energy efficient multi-family building — the largest Passive House apartment building in North America to date. We are proud to be a part of this impressive project and we hope to continue our relationship into the future.
More information about Orchards at Orenco
Take a photo tour of the Orchards during construction and read an article in the Portland Business Journal
See more photos on our Pinterest board
Find out more about our ThermoPlus window system.
Want to know more about EuroLine's projects, events and news? Sign up for our E-newsletter for all our updates!