You're thinking about replacing your existing windows and doors — they are drafty, prone to condensation, leaky and definitely not energy efficient. You also want to improve security, reduce outside noise, and increase natural ventilation and light.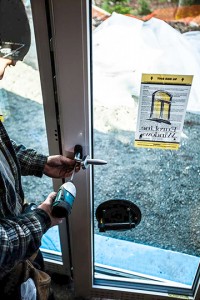 There is a lot to consider when deciding on a big undertaking such as a window and door replacement. Do you want your new products to be fixed or operable? Do you want/need more natural ventilation? Are you looking to increase security and/or noise reduction? Is energy efficiency a major goal?
Once you have decided what kind of windows and doors you want to purchase, the next step is to decide which method of installation will be appropriate for your house.
There are two types of installation for replacement windows and doors — a complete tear out or a retrofit.
A complete tear out involves the removal of your old windows including the frame. This technique is usually recommended because a completely airtight insulated seal between the product and the rough opening can be constructed once the old window and frame are gone. This method can be pricey as it entails more work and may reveal problems, such as deterioration or rot, which may not have been evident before.
A less expensive method, called a retrofit, is to install your new window or door into the existing frame. A retrofit can be done only if the existing frame is in good condition and the new products can be properly sealed and insulated.
Your contractor can assess your home and help you to decide which method is best for your situation.
If you are handy with a hammer, doing the installation yourself is tempting because of the initial cost savings. However, replacing windows and doors is not as simple as changing your flooring or swapping out your old leaky faucets. Installing new windows and doors is a complicated process that requires more than a little know-how.
Need convincing? Here are four reasons to have a professional installer replace your windows and doors.
Get the Benefit of Trained and Experienced Professionals
Windows and doors are a major source of heat loss in your home, and while new technology and improved design has greatly increased thermal performance, improper or poorly done installation can adversely affect the energy efficiency of your products. For example, not every window is installed in the exact same way, and some openings may not be square and may need to be completely reframed. Any error in the installation, such as a slight opening in the seal, can diminish the performance of your new windows and doors.
Professional installers have extensive training and experience when it comes to replacing windows. They have the hands-on expertise to recognize potential problems. They have the tools and skill needed to do the job quickly and efficiently, ensuring that your windows and doors are level from side to side and top to bottom and that the installation has provided an airtight, insulated seal. Most window companies have their own installers who know the product well, and choosing someone who understands how to properly install your windows and doors will help avoid any problems that might arise.
Safety First
Windows can be located in awkward or hard to reach places. This can make window replacement a daunting task. Handling glass can be dangerous at the best of times, but you don't need to worry as your installer will have the necessary safety equipment, is well trained on how to avoid injuries, and knows what to do if an accident happens.
Your Time is Valuable
A professional installer can complete your job more efficiently and in less time than you can. Unless you are experienced in window and door installation, there can be a steep learning curve for you to get your products installed properly in a reasonable amount of time, and with little or no frustration.
Your Replacement Windows and Doors Are a Major Investment
Your new windows and doors represent a significant monetary outlay. You have put a lot of thought into the decision, and you want your products to perform as you expected — keeping you comfortable year round and saving you money on your energy costs. Remember: proper installation is crucial to the performance of your new windows and doors. In some cases, doing it yourself may void your warranty. A professional installer has the expertise to put in your new products precisely to ensure optimum energy retention — isn't your investment worth it?
Take a look at our products page. All of our windows and doors are custom made to your specifications and are available in a wide range of options, including glass type, colors and finishes. We have everything you need for your replacement windows and doors — including qualified installers!
Visit our showroom and talk to our renovation expert for information and helpful advice.
Sign up for our eNewsletter to find out about new products, events and more.