Appearance, style, efficiency, performance? If you're looking for new windows and doors, you probably have a million questions. Your window sales consultant can give you all the answers you need, but here is a list of 24 things to know about windows (and doors) to help you out right now.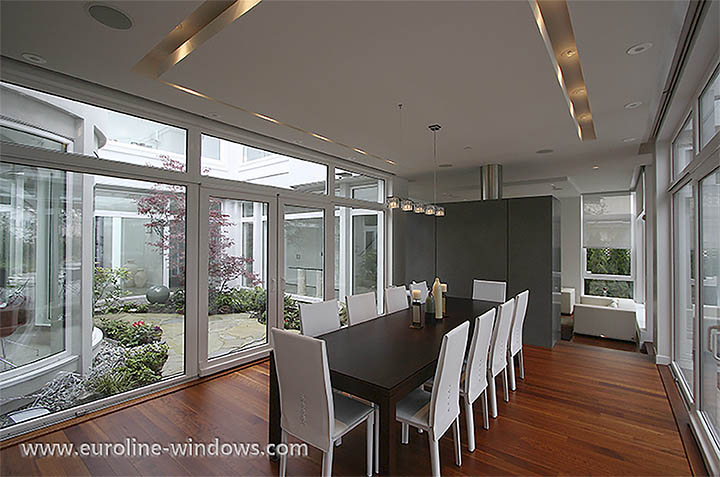 Energy Efficiency and Performance
According to Natural Resources Canada, leaky and inefficient windows and doors can account for as much as 25 percent of your home's heat loss. You can reduce heat loss and cut your energy costs by choosing high-performance windows and doors. Think: triple-pane insulated glass, LoE coatings, high quality, multi-chambered frames, and ENERGY STAR® ratings.
The National Fenestration Rating Council (NFRC) uses u-factors to rate the efficiency of windows. The u-factor measures the rate of heat transfer (or heat loss) and replaces the previously used r-values. The u-factor rating appears on the efficiency label on new windows. For more information about u-factors and window performance, visit the NFRC website.

Another important measurement is the Solar Heat Gain Coefficient (SHGC). The SHGC measures how much heat your home gains from the sun. The lower the SHGC, the less heat is gained. To help reduce solar heat gain, you can use landscaping or exterior window treatments to provide shading. For instance, according to the US Department of Energy, window awnings can reduce heat gain by as much as 77 percent, depending on the orientation of the window.
In Canada, the ENERGY STAR program ensures that high energy efficient products are easily identified and are available to Canadian consumers. Windows and doors must meet specific energy performance levels that have been determined for three climate zones across the country in order to be ENERGY STAR compliant.
You may have heard the term IGU when discussing window choices with your sales consultant. What's that, you ask? Insulating Glass Units (IGUs) are sealed combinations of two or more panes of glass separated by an air space. The air space is often filled with an inert gas for added thermal performance.
Argon is one of the most common inert gases used in window glazing today. A gas, such as argon, is heavier than air and therefore offers more thermal efficiency than just having air between the panes. Argon is colourless, odorless, non-toxic and cost efficient, making it a popular choice for use in IGUs. Click here for more information about argon filled windows.
Low-emissivity (low-E) coatings are a thin metallic film that is applied to panes in an IGU. LoE helps to reduce energy costs by reflecting heat back to its source, keeping heat inside the house in the winter and out of it in the summer. These coatings also reduce UV rays that cause flooring, fabrics, and windows to fade.
Even clear glass, double pane (sometimes referred to as double glaze) windows can significantly lower your energy use, compared to single pane windows. Upgrade to triple pane IGUs and you will reduce your energy consumption even further. HINT:

Double pane windows are IGUs with two panes of glass in a sealed unit. Triple pane is, you guessed it, three panes of glass.
It's no secret! You can have a window system that is made here in Canada and meets Passive House, Leed and Net Zero building standards. Ask how our ThermoPlus™ windows can help you attain the stringent Passive House criteria.
Noisy neighbours, city traffic, low-flying airplanes? You can significantly reduce noise with a window system that has a tight seal afforded by a multi-point locking system. Reduce even more sound by using double or triple-glaze windows with a pane of laminated glass, and gas fill between the panes. HINT:

Triple-pane glass does not considerably reduce noise levels compared to double-pane units, unless the panes have varying thicknesses. Because laminated glass is thicker than the other glass panes (6mm compared to the standard 3 or 4 mm), and has a layer of PVC between the panes, this filters out different sound frequencies than the other panes in the IGU.

A Bit About Style
Tilt & Turn windows and doors are relatively new to North America (though they have been available for well over 20 years now), but are gaining in popularity because of their practicality. These types of windows "tilt" open at the top for draft-free ventilation, and "turn" open to the inside for safe, easy cleaning.
Casement windows open to the outside from a side hinge, while awning windows open to the outside from the bottom with a top hinge.
A picture window is a "fixed" window meaning it does not open. Picture windows allow maximum natural light into any room and are used wherever a large, unobstructed view is desired.
Bay windows are usually a combination of one large fixed window flanked by two smaller windows available in various angled projections.
Bow windows are made up of four or more windows of the same size — they protrude to the outside in a curved structure producing a round appearance on an exterior wall.
Did you know that a window set above a door or window is called a transom? These windows are usually added for extra light and visual appeal.
A sidelite is a non-operable, vertical window that flanks a door. A door can have one or two sidelites.
What exactly is a French door? Dictionary.com defines French door as: "a door having glass panes throughout or nearly throughout its length" We define French doors as "beautiful, gorgeous, stunning" Choose this type of door when you want to add a "wow!" factor to your interior. For an indepth description of French doors, check out this blog post on Remodelista: Sourcebook for Considered Living.
Folding doors open your interior to the outdoors and add a dramatic element to your home. These doors are ideal gateways between living room and pool areas or wherever wide-open spaces are desired.
Consider a tilt & glide door for your patio entrance as an alternative to the typical sliding or French door system. Available in various configurations, a tilt & glide door combines the best features of a window and a door to create a distinctive entry. Easy one-handle operation allows the door to glide open or tilt in for secure ventilation.
Accessorize, Accessorize, Accessorize!
You can add custom grids, sometimes called grilles, to your windows for a decorative look. Ask your sales consultant about the options and costs for this accessory.
Window screens are available for tilt & turn style windows. They fit on the exterior of the frame, meaning you don't have to take them out when cleaning the exterior glass pane. Screens are also available for casement style windows – they go on the frame on the interior.
Want privacy without using blinds or curtains? Consider obscure glass which is available in various colours and textures that provide a translucent or semi-opaque effect will capture light while limiting visibility. This type of glass is a popular choice for ground-level bathrooms.
Rollshutters are gaining in popularity — they reduce solar heat gain and provide an extra level of security for your home. These shutters are available with a manual crank handle or an optional motor operated by a switch on a remote control.
Visit our Products page for information on all our windows and doors.
Have a look at our Projects Gallery featuring residential and commercial buildings that include our windows and doors.
Sign up for our eNewsletter for all our news and events information.